I'm finally down to my last Sydney post! PHEW. I can hear all your sighs of relieve from here, lower down your volume! Haha It has taken me 24 posts and two months to get to here, so I can't wait to close this chapter.
In the (almost) two weeks that we were there, we had a main activity each day for most of the days, the epic-est one of all being the

Harbour Bridge Climb

, which I still can't believe we made a sudden decision to do on the second day. But there were also days in which every one was asleep until we realized we only had about 4 hours of daylight left and we hadn't even gotten out of bed. Hahaha I really dislike the short days of winter. And sometimes the weather. Jo and I were not prepared for it to be that cold, but then again the cold was really nice sometimes, and you don't sweat in the cold, so thats a plus.
We were also taken to eat tons of great food. Here are some other food stops we had during the trip: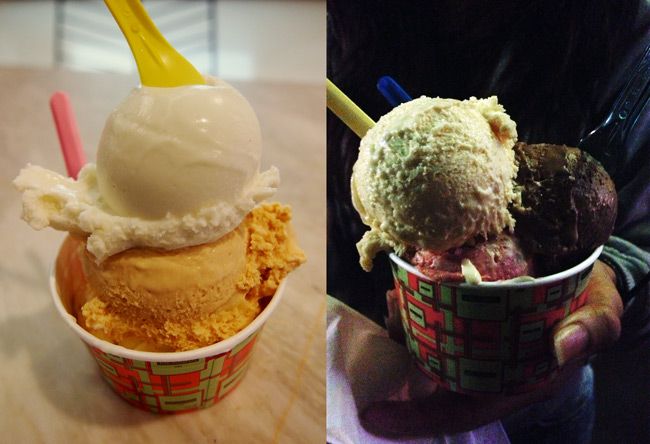 Gen has been raving about

Messina

for the longest time so she took us there for what is supposed to be the best gelato in Australia, and it was really good! We tried The Maltser, Lemon Meringue Pie, Nonno Carlo, Pandan, Have A Gay Old Time, and Salted Caramel with White Choc Chip. I really love The Maltser for obvious reasons, and surprisingly the salted caramel one! Because they really aren't stingy with the white chocolate. They don't give you small white choc chips mind you, they give you white choc chunks! It was so so good.
We also tried Pancakes At The Rocks, which was surprisingly my only pancake meal there, considering how I love pancakes. Didn't think it was that fantastic though! Which I guess was what Gen and Jo tried to warn me about so I didn't get my hopes up. Haha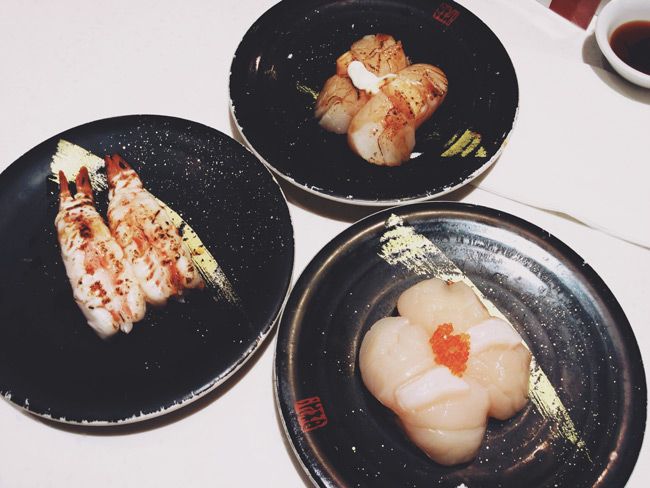 Gen also took us to have cheap and good sushi at

Takumi

in Market City Shopping Centre! With her student discount, everything on the menu was $2.50 each. That's really cheap for really good sushi such as the raw and grilled scallop ones or the grilled prawn sushi or even a soft shell crab dish where they serve you the whole small crab. Yum... Now I really want scallop sashimi after looking at this picture. Haha
Almost every night was supermarket night for us because the supermarkets in Australia are simply awesomeeee~ Chocolate gets SO cheap there. I guess its a good thing I don't live there then, can you imagine the temptation? And all the $2 packets of Snickers Pods and $3 bags of Smiths Thai Sweet Chilli Chips... Yup, its good that I don't live there. Haha Maaaan...
Shopping wasn't that great in Sydney. Things were expensive and Singapore has almost the same shops, so we didn't really shop much. Even on the day we allocated to shop at the outlet mall, because it turned out that most of the mall was under renovation. Bummer! I think it also happens to be the season when the clothes aren't great (winter season) so I hardly saw anything I really liked. I did score a few items though, but most of my money went to buying food. And I guess that says a lot. Haha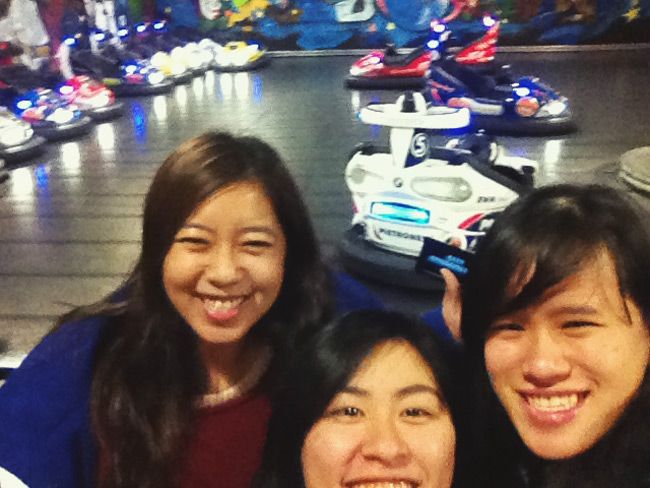 We also did one other thing that has been missing from my life since I was a kid. We played Bumper Cars at the Market City arcade!! That was fun, although it only served as more evidence for the 'you will probably suck at driving' voice in my head. Hahaha
I will also miss

the loveliest beach

that gets a well-deserved second mention.
Sydney was good to me. It let me spend quality time with friends, let me meet new people, gave me the freedom of exploration, provided me with all the good food I wanted, forced me walk long distances, pampered me with cool weather and blue skies, pushed me to leave the house and take in all that fresh air. I sure do miss it.
Thank you Sydney! Thank you Gen. Without you, this trip might not even have been possible. And even if it was possible, it wouldn't have been that great without you showing us around and putting up with us staying at your house. :)
Eunice