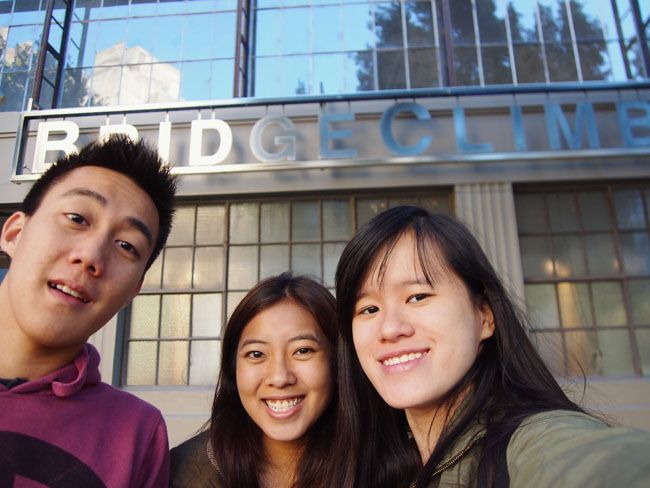 So if you've read my

pre-sydney post

, I said 'forget it' to going for the bridge climb after I saw the exorbitant prices. But on the second day of the trip, we went! I think we got quite excited after Gen mentioned she has never climbed the harbour bridge and wanted to go too. So we booked it on our first night there, and went for it the next day, even though Jo and I were feeling pretty sick (we caught the cold).
Gen had school in the morning so she left early, and Jo and I got up late before heading down the street to

Oiden

for some Japanese Rice Bowls. I had the Ontama Beef, which is basically like the Yoshinoya beef rice bowl but with a half boiled egg on top. Yummmm. Joash had one of their curry rice dishes. Really good. I realised after returning from my trip that I do not have a single photo of Oiden on my camera despite having lunch there twice. There is a photo on my Instagram though so you can see it there, or just look at the menu on their site!
We met Gen afterwards and we made our way down by bus to the Rocks area where the BridgeClimb HQ was at.
In the bridge climb shop and holding area, they have like little columns where they put up pictures of celebrities who have the done the bridge climb previously! My favourite has to be young Daniel Radcliffe, because I want to know what he was thinking when he wrote 'Magic Rules OK!'. And like, I can only seem to read it in our singlish accent. How do those with the english accent read it? I stood there thinking about it for quite some time... and I'm still thinking about it now as I write this... Hahaha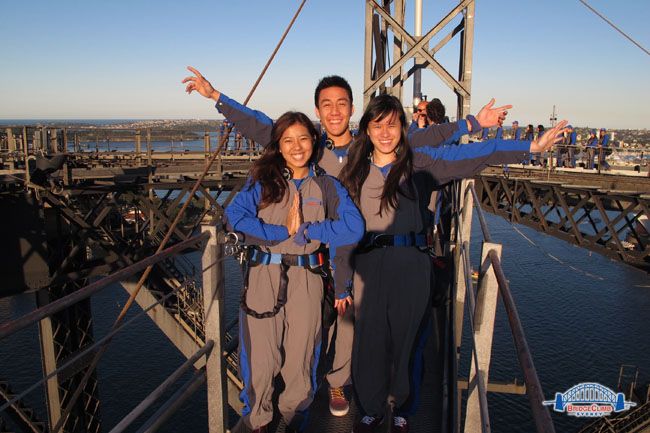 Above are the only three pictures we have of us actually on the bridge, which we paid a hefty price for. Although we were also given a printed photo of our group shot and a certificate.
The whole bridgeclimb experience was pretty cool I must say. Our group of climbers were mostly tourists except for two Sydney girls, and everyone seemed pretty friendly! There was this french guy (I forgot his name... D:) who was celebrating his 19th birthday!
He climbed right behind Joash, so we did talk to him a bit!
His family pooled money for him to go on the bridgeclimb as a gift, which was really sweet, but meant that he was there on his own. We also had a fantabulous instructor - Nick (or thats what Joash remembers it to be. I can't remember, I don't know whats wrong with me). He was extremely funny, friendly and easy-going. He made everyone feel really comfortable, and made jokes like 'is this your first time climbing? well its mine too so let's hope nobody gets hurt on my first day at work.' Yeah righttt. Haha We don't have a single picture with him though, which I'm quite sad about. :(
The whole climb experience is about 3 hours, but before the climb we had to go through this process where we suited up and went into a large hall to get geared up with harnesses, caps, walky talkies, headsets and other things. We also had to go on a practice round in preparation for climbing steep steps on a dummy step structure. All that took around 45 minutes or so but Nick's witty comments made it fun. Then we were ready to set off!
As for the actual climb, the initial part and the end part of the climb beneath the bridge were the scariest. Sure, those are the parts when we are closest to the ground, but we had to walk on narrow wooden planks, squeeze through small spaces and climb not just one but a few flights of super duper steep ladder-like steps. And this is all while vehicles are zooming on the highway, even trains, which cause the whole bottom of the bridge to shake and rumble, eeps! And halfway up the flights of steep steps, cars are practically zooming past your head. Trains, in the case of when I was making my way down. My legs really turned to jelly I tell you. But when you are on the actual bridge, everything gets easier. The path is wide and the steps aren't steep at all. The height doesn't really get to you too.
The view from the bridge is spectacular. We were really lucky that we got such good weather. While we were not allowed to bring cameras (or any loose articles for that matter) up the bridge, Nick took 4-5 individual and group shots for everyone. Outside of the photo-taking time, we were given a lot of time to just stand there and admire the view. Which was really nice. Can you imagine if they rushed us up and down. Nick also went around talking to every person and pointed out places to see and things we could do in Sydney and throughout the climb he also gave us knowledgeable commentary about Sydney's history and other stories. I really enjoyed it.
Well, that marks a once in a lifetime experience! I don't think I will ever spend money to climb it again. I didn't even want to spend it this time but my mom said 'If you go to Sydney with us, we will never climb the bridge. So since you're going with friends, just do it.' And I'm kinda glad I did! The feeling of being on top and looking over Sydney, I can't even describe it. Its part surreal, part peaceful, and a whole lot of other things. I guess you just have to experience it for yourself. Just once. ;)
Eunice