Jo, Wayne and I have been talking about

Omakase Burger

for quite some time so we were quite excited to finally get to try it on Sunday. We tried to manage our expectations though, because we've only been seeing the awesome photos of the place on Instagram and don't really know how good it is. But Joash decided that since he's about to be confined in army for three weeks, we should just go for it.
All of us are curious why a restaurant with a Japanese name is famous for its American burgers, and has American posters for wall decor. But then again, thats not the main point. The food is!
Turns out the burgers are pretty good! Although we all agreed that there wasn't anything that special about them, we did agree that they were delicious.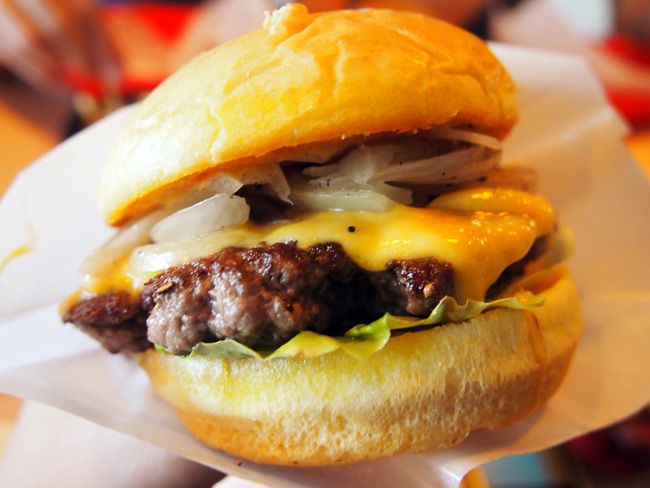 I ordered the Deluxe Cheeseburger ($15.90), which is their signature cheeseburger but topped with grilled onions and mushrooms. Onions AND mushrooms. I love. It was really delish. The rest of my friends had the Omakase Cheeseburger and the Bacon Cheeseburger. Oh, and when you order your burgers they will ask you how you would like your beef patties. High class fast food. Haha
Cheese fries (Large, $6.90).
Truffle Fries (Large, $7.90).
I will say that I find the prices pretty high for burgers and fries though. The burgers themselves are $13.90 - $17.50. And the meal deal isn't that price friendly either. You basically choose our burger + side + drink and they'll take $1.90 off the combo. If you see the prices for the sides and drinks, thats still pretty expensive! But, for a one-off, I guess thats alright, taking into consideration that I have no doubts about the quality of the food!
Omakase is really close to

Pasarbella

too, so if you're there to check out Pasarbella, you might want to check out Omakase too!
Eunice