Firstly, rest assured, there are seats. Hahaha Last Wednesday, I went to try out

Standing Sushi Bar

with Karin.
My sister has been raving about
it
for a pretty long time. About how good the rolls are, how cheap it is...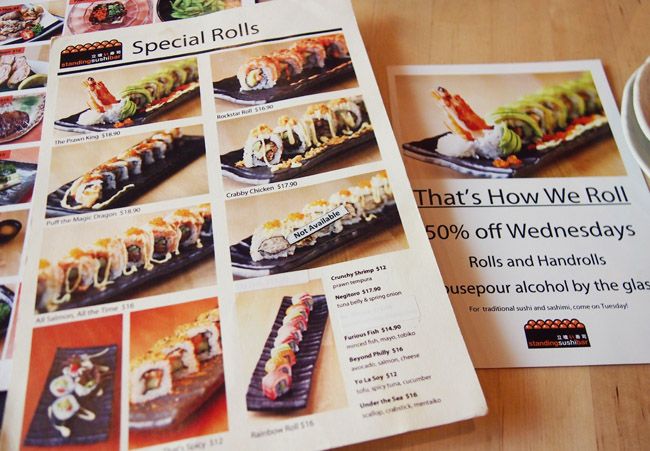 Now before we move on from what she said, I must tell you, they are only cheap on Wednesdays. I think I got quite the shock when I first looked at the prices, every roll is more than $10, the better ones around $17. But they have a 50% off all rolls and handrolls promotion on Wednesdays at the Bras Basah
outlet, so I would say, try them then! With that said, I'm itching to tell you guys how good they are so let's start!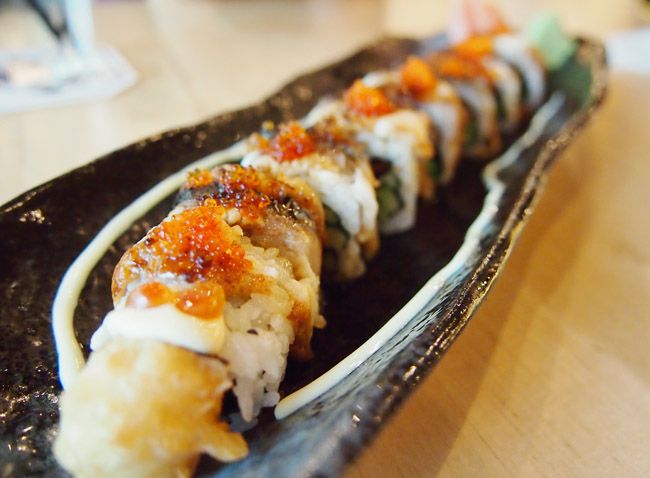 Puff the Magic Dragon ($18.90). THIS WAS OUR FAVOURITE. Sorry, I couldn't resist hitting the caps lock key for this. This was our favourite. Firstly, the super cute name is a winner. Hahaha Puff the Magic Dragon has a tempura prawn centre, draped with slice of grilled unagi and topped with roe. This was the first one to arrive at our table and we fell in love at first bite. We sat there in silence and after a while went 'mmm... its so goooood.' The whole thing is just so yummy, with the sauce, and the unagi, and the tempura prawn, and the crunch from the cucumber. Its a party in my mouth. I have so much love for this.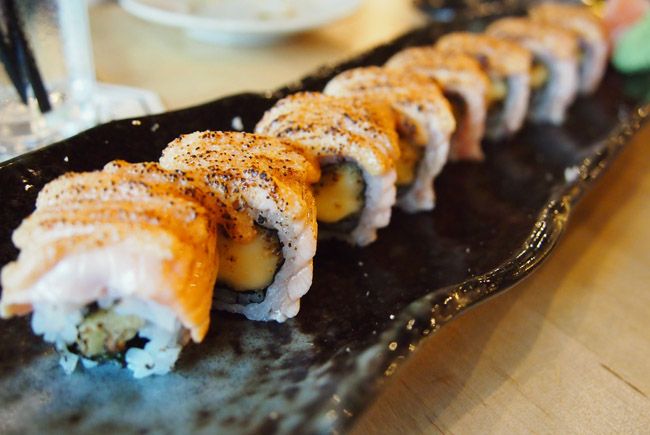 Rockstar Roll ($16.90). It has a fried mozzarella cheese stick centre,
draped with lightly seared salmon, and
topped with mentaiko sauce. This is my sister's favourite and #1 recommendation, and we really did love it! The salmon slices are just lightly seared so you get some raw salmon in there too. We weren't really salmon lovers, but we enjoyed it a lot because its just so tasty. It does lack crunch, so the whole piece just mushes in your mouth, and its so yummy. Look at that cheese oozing out. Mm mm mmmm.
Crabby Chicken ($17.90). 3rd on our list! The first two were recommendations from my sister, but this one caught our eye and we were so glad we tried it! In the centre of this sushi roll is fried chicken and soft shell crab, topped with chicken floss and mayo. Its so yummy because you get salty from the filling, and sweet from the floss and yeah, its just delicious.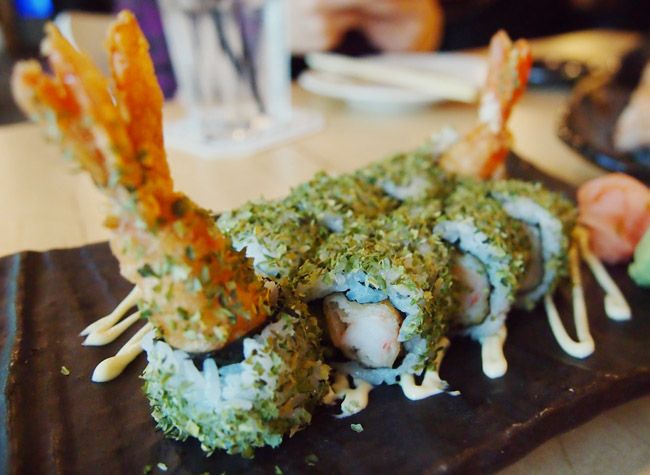 Crispy Shrimp ($12). This one is the fourth on our list not because it wasn't good, but it just wasn't as flavourful as the others. Its like regular sushi with a tempura prawn in the centre, and the leaves that they rolled the roll in isn't sweet or salty, it just tastes like, well, leafy. Karin did like the taste of the leaves though! I wouldn't recommend you getting this. I would say if you're there to try something different, get another Puff the Magic Dragon or something else. The price difference is worth it, trust me. Haha
Heres a better look at the insides for you. Left to right, top to bottom: Crabby Chicken, Puff the Magic Dragon, Rockstar Roll, Crispy Shrimp.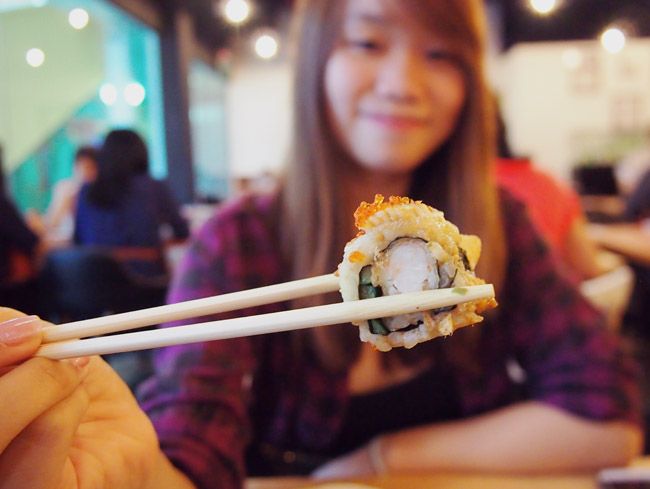 We left with really happy tummies. We shared the four rolls between us, having 16 pieces each, and we each paid only $18, which we thought was pretty good value for the amount of good food we had.
Just to let you know, there are other promotions on other weekdays:
Mondays- $3 for salmon sashimi (5 slices)
Tuesday - 50% off sushi and sashimi
Wednesdays - 50% off rolls and handrolls
Thursdays - $3 for salmon sashimi (5 slices)
There are drink promotions on some of the days too! Check

here

for more details!
Remember these promotions are only for the Bras Basah/
8 Queen St outlet!
Hmm... I'm thinking that theres a high chance I'll bump into some of you guys there on a Wednesday. Hahaha
Have a yumtastic time if you do go! :)
Eunice