Let's give the Sydney posts a rest shall we? I know I really need to wrap that up soon but its going to take some time!
So on Monday night this week, my friends and I had a burger/barbecue session! The highlight was a burger making competition where we each had to make our own burgers with whatever ingredients we wanted. The only things the organisers (Moses and Joash) provided was the beef (unseasoned), buns, cheese, lettuce, and seasonings (Thyme, Rosemary, Black Pepper, Salt, Cayenne Pepper, and more) for your beef patty to choose from. After we were done our friend Kelvin judged and scored all our burgers. It was... interesting! Haha The creative ideas my friends come up with...
A week before the competition we were coming up with all sorts of potential names for our burgers: The Heisen-Burg. The Lady-Burg. Ice-Burg. Blooms-Burg. Basically anything we could add a Burg pun into. But you'll see that we didn't use the names in the end. Oh well. Haha
The army boy's burger. There was portobello mushrooms, bacon, cheddar, and a tomato in this. I think the combination of all the classic ingredients was what made it pretty yummy! And Moses' burger ranked 1st in the end. *clapclapclap*
Jo's burger was flaming hot mess. Hahaha He had mushrooms, bacon(?), and he brought his own unique cheese. But I will say that the thing that stood out the most would be his generosity with the Cayenne Pepper he used to season his beef patty. It sends you running for a drink. Hahaha Its okay Jo, you can try again next year! Haha
Other than the first two people, the other three of us were not exactly very invested in the competition. Hahaha But here's Wayne's burger! Bacon and Mozzarella being the unique points. I didn't get to taste it but it must have all went very well together!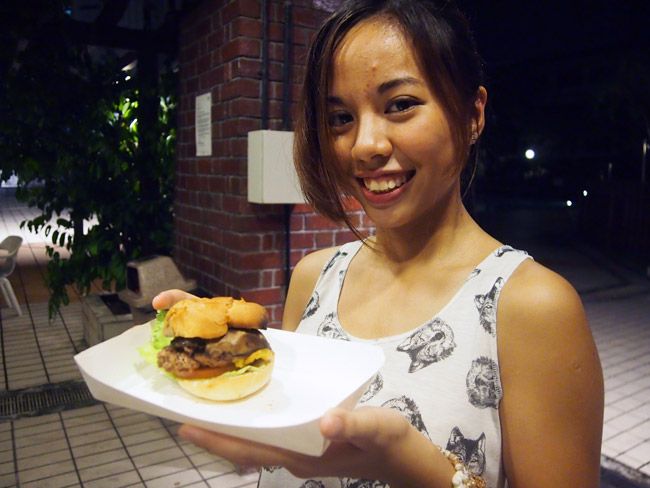 The only burger that has a cool name: The Beerger. Hahaha This was Aleithia's impromptu creation where she decided she would pre-soak her meat in beer. It made cooking it on the barbecue hard because it would keep breaking up, but it turned out well in the end!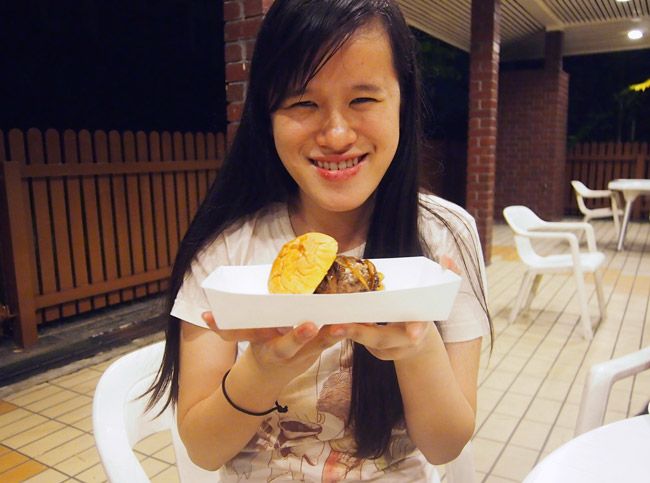 My Onion-Burg. When the first mention of a burger competition came up this was my first idea so I went with it, seeing how I was busy studying for an exam that was on that same day. I caramelised my onion in Jo's kitchen before the barbecue began, and later heated them up over the fire before putting my burger together. It might not be much, but hey, I was the only person with onions and that its unique selling point. Hahaha In the end I tied with Wayne for 2nd place so I'm pretty proud. Haha
After the announcement of the results, our judge Kelvin declared he was going to make a burger to beat all our burgers. And I think he did it. He put cheese in the center of his beef patty and it was seriously good. Also he managed to cook the patty such that it wasn't overcooked and just nice. Yummm.
After all the burger hype, the boys restarted the fire and cooked all the rest of the food. We had standard burgers, steak, portobello mushrooms with bacon and cheese, and also grilled sweet potatoes. We were so, so full even before the end of it. It seems like the guys are determined to make the Burg-Off and annual thing, so we'll see! I think we'll all need to up our game if we do have another one. Haha
It was great night and I'm really thankful for the times I get to spend with my friends. With enlistments and people being overseas and university, its going to be hard to meet up that often. We'll take what we can get though! Love them all. :)
Eunice