So after our

bridge climb adventure

, Gen led the way to

Lowenbrau Keller

at The Rocks. She said its one of the touristy must go places in Sydney, and that statement was supported by it being one of the more crowded places on a Tuesday night (or evening, can't tell cause the sun set at 5.30pm when we were there). But German food! Yay! Although if you were with me that night you wouldn't see any enthusiasm. I started feeling sicker after the bridge climb and leaned towards a more feverish state so I was not in the mood for anything. Apparently except taking pictures, as Gen & Jo pointed out when I reached for my camera. So don't expect much from me this post.
We chose to sit one of the long wooden benches they had outside the restaurant, which at first was like wha-? because its freezing, but it wasn't too bad! They have heaters on the wall next to the tables so it was alright. It got pretty toasty actually! But I think it made me feel a bit worse. I couldn't tell the difference between the heater and if I had a fever and just felt pretty shitty. But the food was good! So lets go on to that.
Bread! Warm bread! The right way to start a meal. Every time. And can I just mention that Gen went "Lurpak!!" when the bread basket came. With the heart shape animated eyes and all. She's funnyy. (It's just butter, Gen. HAHA)
Tell me whats the name of this dish because I have no idea. Serious. It was a sausage platter with four types of German sausages on top of Sauerkraut
but I don't remember what each type was other than the tiny one (2nd from left) which was a cheese sausage! I love cheese sausages. Actually I quite like all sausages, which I know is bad for me, but you just can't go wrong with them. Y'know what I mean? You just know they are gonna be yummy.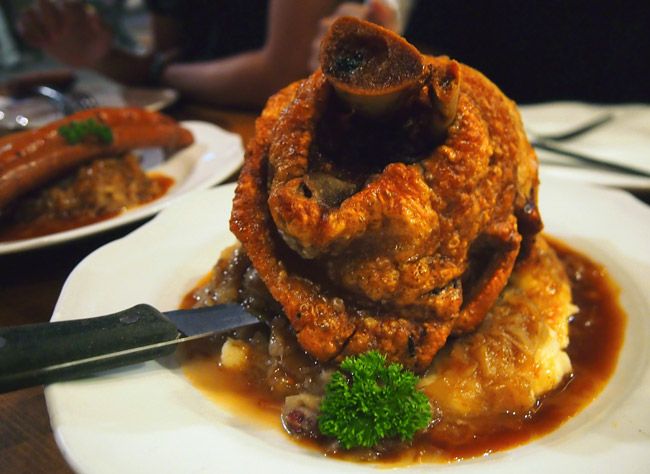 And for the main dish! I know this one: Schweinshaxn
(
Okay I found it on their website. they even have a player that reads out the word to you so you know how its pronounced, go try!) This is oven-roasted pork knuckle everybody. Just look at that crispy skin. It sits on a bed of mash potato topped with Sauerkraut, in a pool of what they call Lowenbrau Bier Sauce. It. Was. Yum. And it really fun to cut up too. Good for venting your anger on. Hahaha
While we were eating there was a little German band that came out from inside the restaurant to entertain us (people sitting outside) and the people just walking around the area. They were really cute old men, in their uniform(?)costumes(?) and were really enthusiastic about their performance. They played for really long too. I felt quite bad cause people were focusing on eating and they didn't really get much of a response after each song. But I did like them!
All in all it was a pretty good meal! When we got back I knocked out really early, and for quite a while. Woke up later to feel legit-ly slightly feverish. But that was the worse night! I think I got better after. Although both Jo & I never fully recovered from our flu during the trip. Only after we stepped back into Singapore. But I still enjoyed the meal so yay! Glad my tastebuds still worked enough to taste it. ^^
Eunice