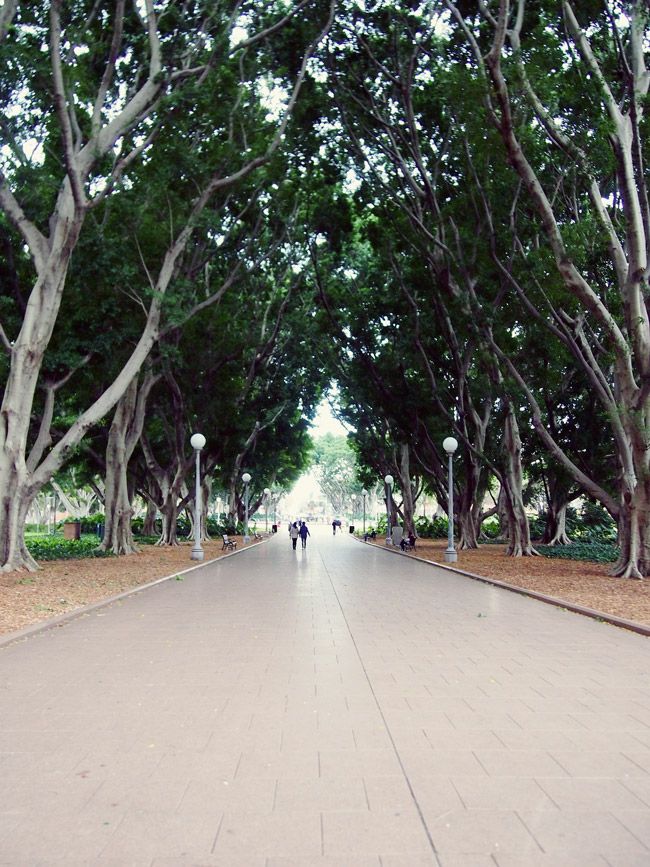 Hyde Park is such a beautiful place. After having breakfast at

Bourke Street Bakery

and everybody taking a pretty long nap back at Gen's place, Jo & I went around to explore the neighbourhood on our own as Gen had a full day of school. Because Joash bought a Optus SIM card which was 30AUD for 15 days with unlimited data, messages and calls to Aussie numbers (pretty sweet deal!), getting around was easy using Google Maps so don't worry, we didn't get lost on our first day. Haha
Before my trip my cousin told me to definitely visit Hyde Park. He said it was beautiful. And it was!
And I can imagine that it would look pretty beautiful at night too, what with the lamps lining the wide pathway.
Although I think as a park its a bit on the smaller side. We finished walking through it pretty quickly even though we were strolling. But it seemed like the perfect place to unwind and relax. Around the
J.F. Archibald Memorial Fountain
were many park benches and I could already imagine grabbing a sandwich and just sitting there breathing in the park air during lunch breaks.
At the other end of Hyde Park sits the

ANZAC War memorial

. I didn't know much about it when I was there, but a little googling taught me some interesting facts! ANZAC stands for the Australian and New Zealand Army Corps and this memorial is dedicated to the Australian Imperial Force in World War 1. The lake in front of it is called the Lake of Reflections, and the trees that line the sides of it are poplars, which aren't native to Australia but are planted as a symbol of the areas of France in which the troops fought. I thought that was pretty interesting. You can click on the link to find out other details about the structure itself! Not knowing all these, the thing that really caught our eye was the etches into the trees that included many hearts, love dedications and other phrases. It led Joash to briefly called it a love park. Haha I guess you can call us uninformed tourists. :S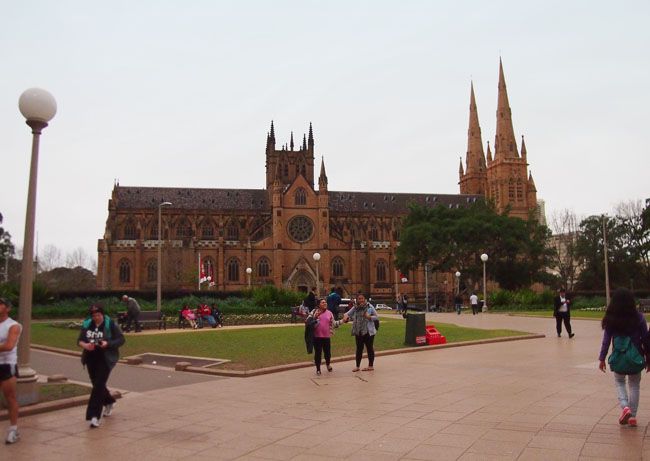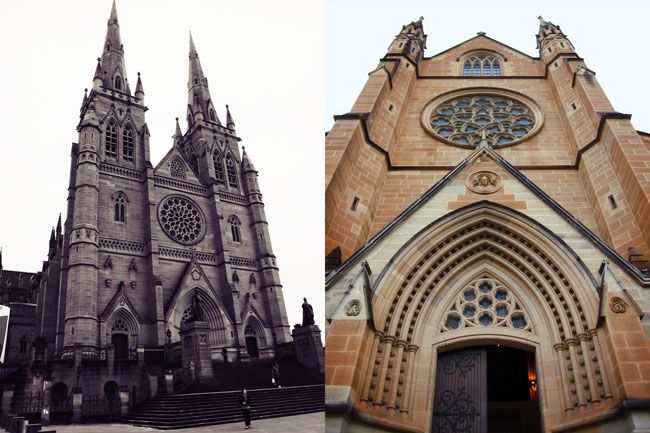 From the fountain we noticed the beautiful

St. Mary's Cathedral

just by the side of Hyde Park. If you think the structure look beautiful, you haven't seen the inside. And you won't too, on this blog at least. Photography isn't allowed inside, and out of respect I didn't take any. But we did step in to walk around and really, the whole place is stunning. We spent a lot of time admiring the interior, especially the beautiful stain glass windows depicting different biblical events. It just gave off a certain mood. Serene, calm, and it definitely took my breath away.
We also did a bit of city walk that day, and the one building/mall that peaked my interest was Queen Victoria Building. It looked so grand on the outside and did not disappoint on the inside either. I think the two large hanging clocks were one of the focal points of the structure, but I wouldn't know. It was for us though! They were incredible; so large in size, and extremely unique. They even had little miniature scenes going on on each side of the clock structure. The mall itself, was out of my league. Expensive stuff there, although there is one craft/hobby shop if you're into building toy trains, tamiya cars or gundam figurines. There was also a little Dr Seuss art work museum! Although it was closed when we went past so we just looked at it through the glass.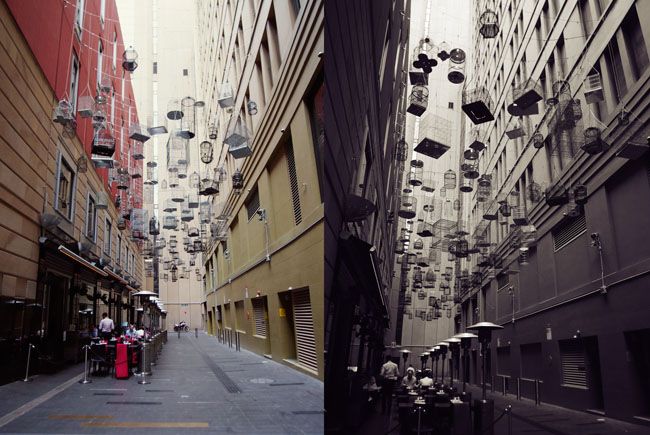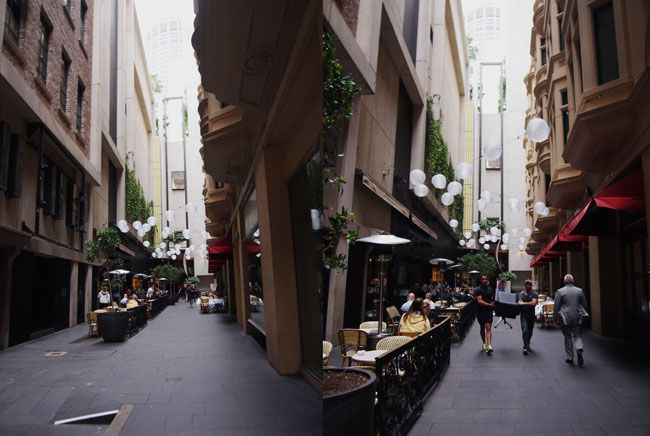 Not knowing where to go has it perks because we wandered into this little alley, that split into these two gorgeous alleys above. I. Love. Hanging. Deco. I love it. And trust me I have this little obsession with bird cages (don't know if its a symbol I associate to my life of just a Harry Potter thing), so I definitely fell in love with the first one. I still don't know what street these alleys are in though, sorry. Haha
We sure did a lot of walking on our first day, but I'm glad we did! I think we only spent one other day wandering around without an agenda because for the rest of the days we had like a main thing we roughly planned to do for each day. But walking made up a lot of what we did. I kind of developed calf muscles by the end of the trip. Which my boyfriend so kindly pointed out, does not in any way mean you exercised; go and run. X)
Eunice