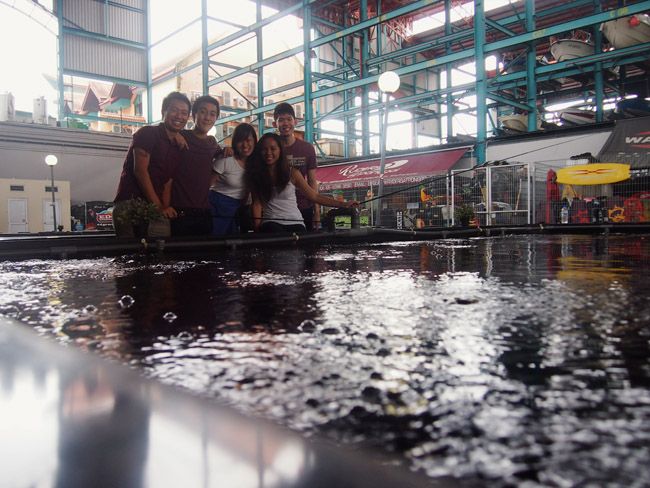 Despite the heavy rain Sunday afternoon, we stuck to our plan and headed down to

Punggol Prawning

at Marina Country Club (check out their

Facebook page

too). We've gone prawning at quite a few places, but remembered this one to have a nice outdoor ambience with wooden bridges in between ponds. So we were surprised when we got there and found out that they moved it! Same location, but different area. It's now operating in Marina Country Club's dry storage facility (check out those boats!), which is still pretty cool.
Prawning can get pretty dead after awhile if you're not catching anything. We started off well but after about three prawns our catching rate slowed down pretty quick. But these are my favourite people to do anything with because they don't get boring (or maybe time with them is just my favourite kind). We played with temporary tattoos (lots of them) for awhile and everyone was being super fun about it (you can see them in my

next post

, this one is already overloaded with photos!). At one point Monster Energy girls came around and handed out large cans of Monster Energy Drinks to everyone. We also had a few episodes of prawn grabbing. I don't think I should tell you what I mean but think of it really literally. Haha
At the end of the 3 hours, we caught a total of 19 prawns. Definitely not our best (we once caught almost 60) but also not our worst (the guys say they didn't even catch any when they went prawning somewhere else). I hate watching the guys skewer the live prawns. Look really painful. They were certainly yummy to eat though! According to their Facebook Page you can't get these 'Giant River Prawns' in the local supermarket and the meat is said to be firmer and more like lobster. Hmm, I always thought it tasted good because it was so fresh and the fact that you caught it yourself makes you like it more. Hahaha
It was fun, but a pretty expensive activity if you ask me, especially if you don't end up catching a lot. We paid $60 for two rods for 3 hours so go figure. The guys decided that maybe we shouldn't go prawning anymore. We could spend the $60 on good food for another BBQ. Haha
This wasn't the end of my Sunday outing but I'll save that part for another post. This suddenly became a three post day because I have tons of photos and I hate to choose (I already cut down a lot okay). Oh, and I also don't want to lag your browser, haha, yes that's important. ;)