Hey there! If you didn't catch it in my previous post, this month I will be working on a series of posts that are all scrapbooking related! I've always been quite disappointed that none of my friends seem to be as interested in scrapbooking as I am. My boyfriend used to make fun of me, saying that the target age group for this hobby is probably older women who are stay-at-home moms. I don't agreeee! I think scrapbooking is a fantastic way to be creative and at the same time, keep your memories looking great! To start it off, it seemed only right to talk about traditional scrapbooking first!
There might be another definition of what traditional scrapbooking is, but to me it means doing full on 12" by 12" layouts. I'm sure you've seen these around, in online galleries or when you walk into scrapbooking shops. These are the layouts that probably come to mind when someone mentions scrapbooking. Well, I can tell you that I am not a fan of 12x12 layouts. Here are some of my reasons:
It's intimidating. The blank canvas is too large.

There are too many design elements and 'rules' to consider. Should I fill up the whole page? Would it look too cluttered? Should I leave some space? If so, how can I leave space but not make it look plain?...

There is a pressure to keep coming up with new ways to arrange the items on your page, even if you found a layout style that you like.
But still, a 12x12 layout is at the heart of scrapbooking, so I do try to challenge myself with them sometimes. But of course I like to keep it simple so I try to push the thought of 'rules' aside when I do.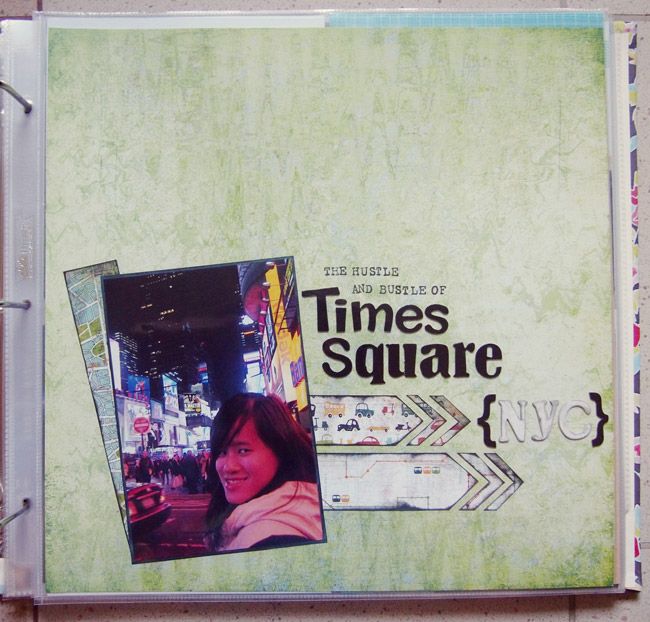 12x12s aren't for me, but you might enjoy them! I find it hard to be inspired to do a 12x12 layout, and I never seem to be able to complete more than one each scrapbooking session. Sometimes having a common theme for creating scrapbook layouts can really get the inspiration and motivation going. Mandi of

Making Nice in the Midwest

has a feature on her blog where she showcases a fantastic inspiration system for her scrapbooking called '

Outfit to Scrapbook

'. She picks out details (patterns, colour swatches, design) from outfits that attract her and implements them on her scrapbook page! That seems like a really fun and effective way to get an rough idea before starting on a full 12x12 page!
Do 12x12 layouts intimidate you too? Well, don't worry! Someone out there in the scrapbooking industry thought of us and came up with a way for people like you and me to spend less time scrapping more photos and without much fuss! I'm totally in love with the new system which I will talk more about next. I'll be back with Part 2 next week! :) Eunice