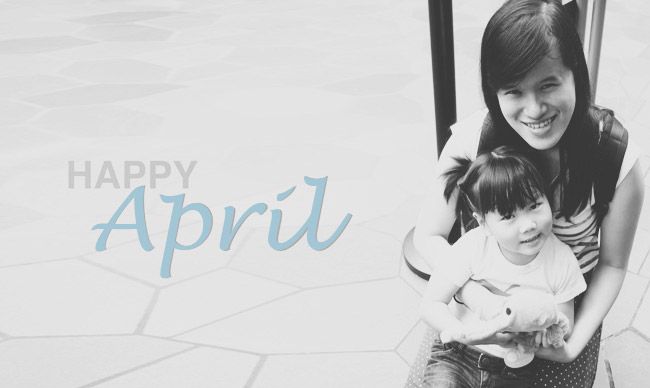 It's the 1st of April! Did you fall for any April Fools pranks today? I hope that if you did they were at least fun and not at your expense. I spent the day at home working on school work all day so there aren't any pranks to share on my end! Although in the past there was one where my cousin tricked everyone into believing that their family had suddenly returned to Singapore for a holiday (they live in Perth), and I was so excited that they were back, only to find out they weren't. ...My friends say I'm too gullible sometimes.
I might say 'Happy April!' but honestly, April doesn't look like it is going to be good month for me; I have only about a few weeks of classes before my exam period, but tons of school work to rush out. A group project, extra credit work, research paper, etc. I feel like I'm trapped in a pile of work that won't go away. But! I'm going to keep my head up and look forward to May, when I will finally get a two week break before I start my next semester and start lamenting about how I don't have a 3 month long summer break like everyone else. Sigh, school can be suffocating sometimes. Haha
It's been a long time since I did a DIY post, and I really want to do one too! But just give me some time here to work on school. So this month, I will unofficially call it Scrapbooking Month! Every week I hope to share with you about scrapbooking, my experience with different mediums along with tips and tricks if you're thinking of starting scrapbooking! Although I'm not a pro so if you're one, you might want to skip past those.
I hope your April looks more promising than mine! :) Eunice