No, I'm not talking about myself. Haha! Over the past week, I embarked on a little project to redesign the way the blog looks. The above picture is what it looked like before. I was quite tired of it looking so chunky, and wanted to simplify it so as to allow the post photos to stand out more. I've been preparing all the elements and finally put them all together just past midnight this morning!
It started when I finally came up with a hand-lettered design for House of Daydreams that I was happy with and proud of. I spent some time learning how to digitize and colour it in Illustrator and adding texture in Photoshop, which was strangely a pretty simple and fun process (you might see more digitized hand-lettering soon!).
For those of you who are viewing this through a blog reader, you probably can't see the changes so here's a screenshot of how it looks like now!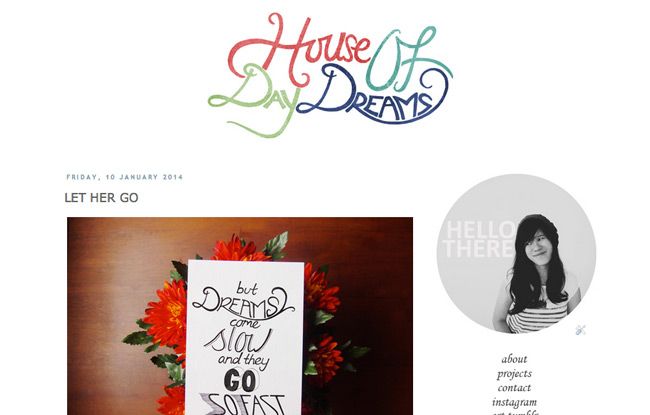 As you can see, I got rid of the chunky navigation bar. I'm sure that being chunky helped to catch the attention of more people, but I think the blog can do with much less clutter. I moved the navigation links to the sidebar, and added links to my Instagram account and a new Tumblr I created for my hand lettering! Uh-huh, you heard me right!
Here's a screenshot of it!
For some reason, I'm really digging the minimalist look now, I don't really know why. Haha! I figured using Tumblr was the easiest way to share what I draw with others, even though Tumblr is pretty scary in the way that original posts go uncredited quite often, and how you can never delete a picture cleanly off Tumblr. But we'll see how it goes!
How do you find it so far? Let me know! I'm still in the midst of updating the blog here and there, so if things look wonky while you visit, do pardon the renovations. I'm planning to update the about page and the much-neglected projects page and replacing the favourite posts column. But I'll be back on Wednesday with a long overdue DIY post! Excited!
Eunice