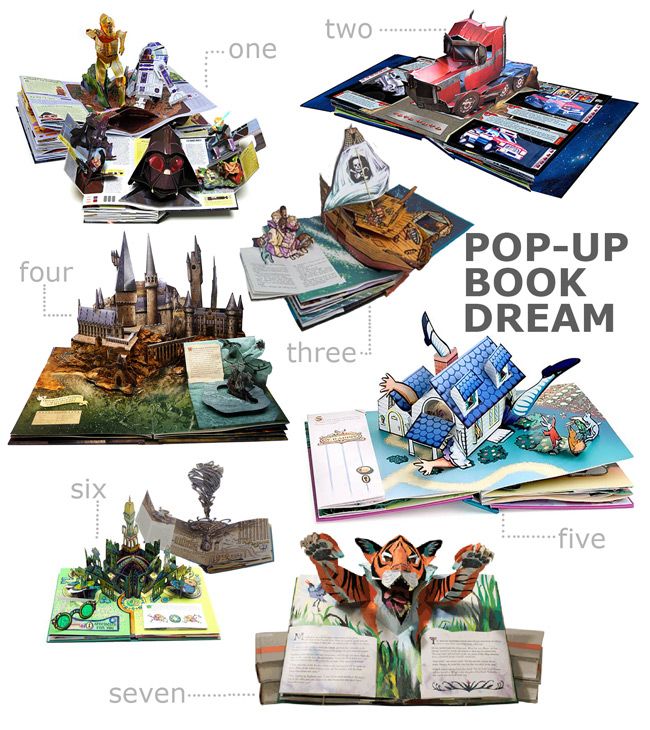 Pop-up books have always been my favourite. When I was younger, I was fascinated by the way the images popped out of the page, but now, I'm way more fascinated with how the pop-ups are constructed. I've been looking over the only pop-up book I can get my hands on:

DC Super Heroes The Ultimate Pop-Up Book

by Matthew Reinhart (which was actually a present to Mo, but is currently spending time on my desk), but its really not easy to figure out how its done.
Here are seven other pop-up books that are sitting on my dream bookshelf in my head. They are designed by incredibly inspiring paper engineers

Matthew Reinhart

, Robert Sabuda and Bruce Foster. I find it hard to get them in Singapore though, and even when I do find one, its usually super expensive. One day. Maybe one day, these books will be in my hands. But for now, we can drool over these page by page videos of each book! I'm still reeling from going 'omg' 'WHAT' 'shit' and basically gaping at my screen as I watched them (especially the transformers one!).
1.

Star Wars: A Pop-Up Guide to the Galaxy

2.

Transformers: The Ultimate Pop-Up Universe

3.

Peter Pan: A Classic Collectible Pop-Up

4.

Harry Potter: A Pop-Up Book

5.

Alice's Adventures in Wonderland

6.

The Wonderful Wizard of Oz: A Commemorative Pop-Up

7.

Jungle Book: A Pop-Up Adventure
On a side note, I finally made it to my 100th post! Yay~
Eunice