Gen took us on a mini food tour of her favourite food places at Surry Hills and first stop was

Reuben Hills

! I really love the industrial warehouse feel of the interior, with the wood, bricks, clean lines, fluorescent lights and textured surfaces. The abundant natural lighting streaming in from their open 'garage door' at the back also makes me think: 'whats not to love?'
Dirty Bird. Gen was talking about this burger so much before we even got there that it was hard to even take a second look at the other items on the menu. Hahaha Spiced grilled chicken between fluffy brioche with salsa, cheese, pickles and chipotle aioli. Looks good? Tastes good. Mmmm
Chorizo Grits with baked corn tortilla chips, queso fresco, beans & avocado. I took that off the menu so I'm not sure what queso franco is. Although this dish just reminded me of nachos with a lot of dip. Meaty, beany, avocadoy dip. I do like the crunchy tortilla chips, although slightly burned and soggy for the parts that are touching the dip.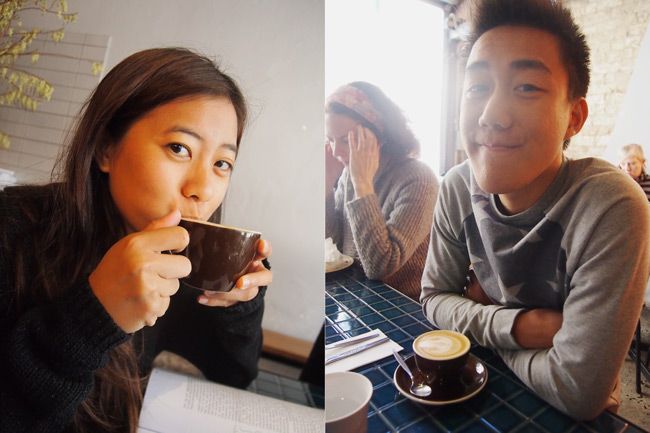 No coffee for me, but heres my friends with theirs. <3 The coffee at Reuben Hills is supposed to be pretty good, but I wouldn't know. ;)
Gen then took us down the road for what she calls, her favourite churros. We end up at this cute mexican restaurant that hits you with a splash of colour, called

El Loco

. It was opened by Dan Hong, who I remember was introduced on Masterchef Australia as Dan Hong from Ms G's. Ooooh there can only be good stuff coming out of here.
The fun deco really brings out the Mexican vibe. I love all the

piñatas

hanging from the ceiling, and their every-colour-possible stools.
Excelsior Hot Dog, Grilled pork Frankfurt served on a soft bun with pickled jalepenos, pico ge gallo, mayonnaise and cheese. Look at the heap of grated cheese!!! It was really satisfying.
Churros. These cinnamon sugared fried dough were served straight for the fryer, with a side of either a chocolate or caramel dipping sauce, both of which we got cause Gen said we should try them. The caramel definitely wins the round though! The chocolate dip tasted more like bitter chocolate syrup, and less like melted chocolate.
Gen certainly spoiled us on this trip. How are we supposed to forget all of this fantabulous food?! We were so lucky we had her to take us around. We had good food for almost every meal during our two week stay. We took another food tour in a different neighbourhood on our second last day so thats coming up soon! Mmmm
Eunice