When you think about working on scrapbooking, and layouts etc...
...does this stress you out? This is my D-ring album and a little research tells me that one D-ring album can hold 40 layouts (double-sided on 20 page protectors) and probably more to about 50-60 if your layouts are thin with little embellishment. Isn't that idea intimidating? That to fill a whole album you have to put in so much time and effort to create at least 40 12"x12" page layouts (even with the photo freedom system)? I know so many people have a few albums and its unimaginable for me right now. Filling an album is on my list of things to do before I turn 21, which is in a year. That's how impossible it seems to me.
Well, if your intention to scrapbook is without the goal of filling out a full album, you can always turn to mini scrapbook albums! These are usually event oriented (like a trip, birthday party, graduation) or theme oriented (like school, job, baby's firsts or your relationship with someone), not a mish-mash of everything in your life. So it would definitely make good presents for friends or family!
Here are three really simple ways you can make a mini-album!
This is an accordion style mini-album that I made as a birthday gift for a friend. I chose this because it has the perfect size for what we wanted: a half mini scrapbook album and half card. And its really simple! The one I made was made with one sheet of 12" by 12" cardstock, has only four sides and each side is 5". When I learnt this in a scrapbooking class they used a machine (that I do not have) to die-cut the shape out of cardstock for me, so I don't really have an actual tutorial. But here is a link to a video tutorial on how to make a
smaller sized album (4" sides) that has more pages!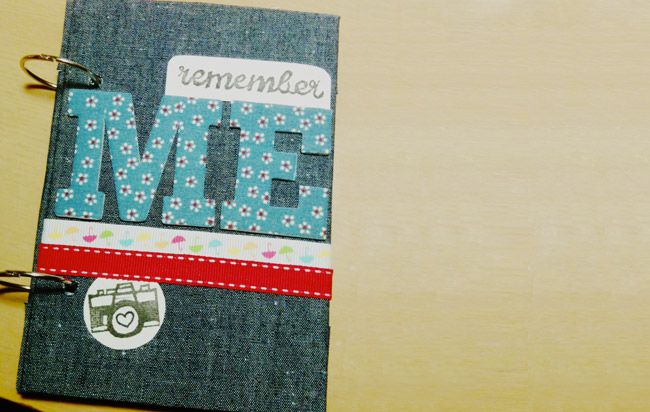 This is my first total DIY album. It's a simple 4"x6" album which has covers made out of hard board that I wrapped with cloth. I made this to document a relationship/journey and I'll tell you why its perfect for this:
You can add in pages whenever you want. Just cut a 4"x6" page, use the regular two-hole puncher, and add it into the metal hinged clasp rings. So you don't have to worry having something new to add in like you would with a mini-album.

Regular 4R photos fit perfectly in this.
There will be holes in every page/4R photo

It feels a little flimsy because the rings aren't connected, so the pages move around a little.

If you aren't into making the book or its pages on your own, then the easiest way is to just get a book to fill up! I did up this one as a farewell gift for a friend by getting one of the scrapaholic notebooks and filling it up with photo collages and little farewell notes from everyone. You would preferably want to get a book that has thicker pages so that it has better support. Also, try getting a wire-binded book instead of a tightly binded book because with the layering of your photos, embellishments and what nots, your book is going to end up thicker than it started out to be. A wire binded book gives a little more space to accommodate this change, and will still be able to close pretty well if it doesn't get extremely thick.
Although, there is one other thing to consider. Empty books and note books tend to come with many sheets of paper, like at least 15. That would mean 30 sides to fill! Do you have many photos to add or things to write? If you don't you could consider taking out the extra pages but that usually is quite a hassle.
Each method has its pros and cons but I think it really all comes down to why/who/what you are making this for. There are tons of other ways to make mini-albums out there so you can be sure to find one that suits your need! I would recommend exploring youtube. The are many dedicated scrapbookers who provide step-by-step video instructions on how to make each type and I definitely find it easier to learn from a video!
I hope this helped you! Eunice
Part 1:

Traditional Scrapbooking
Part 2:

Photo Freedom
Part 3: Mini Albums