Before launching the blog I was doing some crafts to share with you, and one of my favourites turned out to be the DIY Canvas Photos. I've seen various tutorials here and there and in the end I followed the instructions of two. You can check out the full how to here(video) and here.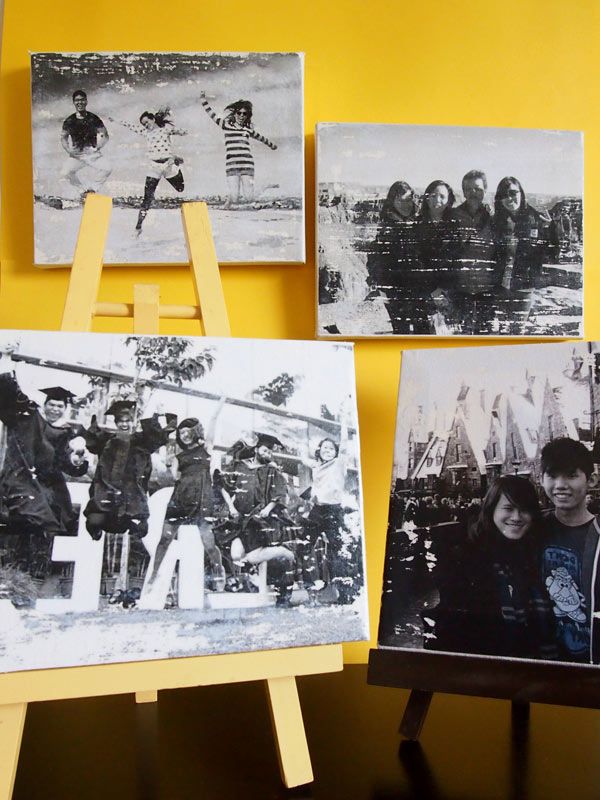 They were really fun to make and would be perfect for gifts! Although quite time consuming and could sometimes give you a panic attack when it starts to tear.
I must say, don't fret when it does, and continue on confidently, as tears are to be expected and also give it a nice worn and vintage touch. Unless of course, the main part of the photo (faces) and completely torn off, then you might want to try ripping off the whole layer of gloss medium and start over.
Here's my tip though, instead of a paintbrush I used my fingers to apply on the medium as I feel that it makes it smoother and less likely to cause the photo to tear, seeing how the initial tears were in lines that followed the brush strokes. If you have one of those sponge brushes that could work as well!
I also preferred using Mod Podge for the finish as to another layer of gloss medium. I like the matte look, and felt that it gave a more printed on canvas look.
Do try it out and have fun! :) Eunice